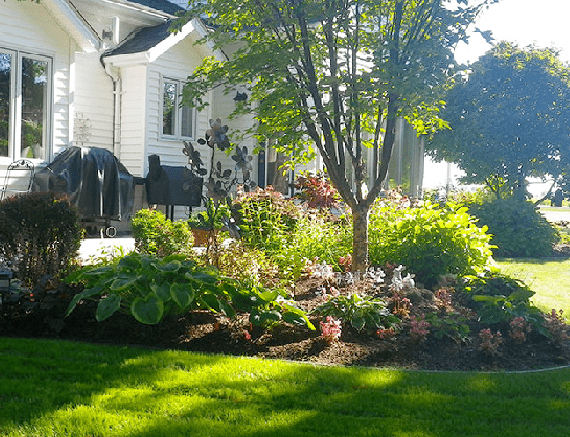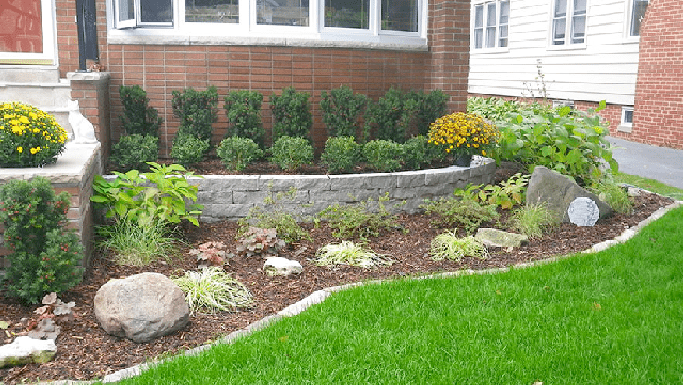 Landscape Design in Windsor Ont.
You probably have a number of great ideas for your landscape design, some that are practical and some that may not be. Garlatti Landscape Inc will help you in creating a landscape design that will ensure your yard looks incredible and is the envy of your neighbors. Taking a good look at your property and performing a walk-through of your yard will help us understand your vision, what will work, and what won't when it comes to your landscape design ideas.
Take a drive or a walk around your neighborhood and have a look at some  landscape design ideas. Make notes on what you like, and what you don't. What works, and what does not work so well? Are their trees, shrubs, or other plants you like? What about rock features, edging, and the colour of mulching?
At Garlatti Landscape we will consider your vision, along with a myriad of other elements like drainage, layout, plant species, plant crowding, the style and design of your home, and the Ontario climate. Windsor, Essex County has its own special weather and is suitable for a number of different varieties of trees shrubs, and perennials that we will all take that into consideration. Our landscape designers will work with you to develop a detailed plan to ensure your vision is captured and your landscape design will last for many years.
Our landscape design process starts by meeting with you at your home or business and discussing your vision and the options available to you depending on the yard's state. We will cover all areas like the walkways, patios, and decks during the meeting. After that, our professional designer will develop a design for your approval.
Garden Design & Horticulture
Since landscaping design is more of an art than science, even rational people will disagree sometimes about the best way to design a yard landscape. There are many different opinions and tastes to consider.
This can be seen in the following ways:
Plant choices
The choices in hardscape
Formal styles vs. informal styles
For instance, discussions about the best plants to choose, it is very common to see some landscaping design companies using the same arrangement of plants and are often overused. At Garlatti, we base our plant choices on what complements each other or even what can bloom year round. Our professionals will not only design your landscaping project but also take you through the process and guide you through many plant choices. We are capable of dealing with any type of outdoor project whether it is a flower garden or a complete backyard landscape design. With our team working in your garden, you can just sit back and watch your aesthetic goals being achieved.
Our licensed landscape architect has complete knowledge of landscape construction and landscape techniques which allow them to understand all the elements of landscape design. These professional landscape designers have a vast knowledge of landscaping plants and horticulture which improves the look of all residential projects. They are often praised for their technical skills, green thumb, and problem-solving skills.
Each property has its own approach, which is unique. Garden and landscape design in the city of Windsor may be different from the more rural areas of Essex County as they are all distinct. Urban environments have more freedom when it comes to designing their gardens because they are surrounded by an artificial built environment. Natural surroundings on rural land, on the other hand, tend to be more entrenched over time and hard to change.
The design of a garden grows and changes as well. When it comes to gardening or its design, it's inevitable that certain plants will need to be moved around. For example, you may want to add, remove or change the conditions of their location, or you may not like how all plants look in relation to the surrounding flora. Even horticulturists move their plants on a regular basis.
Using environmentally friendly landscaping methods will help your landscape thrive in the natural environment while also saving you money and water. For your vegetation, we use the right soil and fertilizer, drainage, insert mulch around plantings, and choose landscaping plants that thrive and require less water to be resilient.
If you're a fan of the great outdoors, consider turning your backyard into a luxury resort where you can enjoy a year-round stay-cation. This includes a bespoke paver patio with planters, a fireplace, and lighting, making your outdoor space an entertaining space.