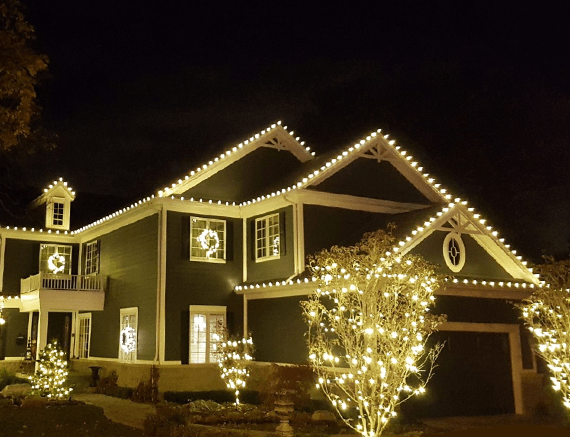 Christmas Decorating Company Windsor
Decorating for the holidays can be a hassle and sometimes even a safety risk. We are the worry-free, warm and safe Christmas Decor seasonal decorating franchise for Windsor-Essex.
Our highly trained team will work with you to design a Christmas decorating display, for your home or business, that will perfectly fit your goals and budget. We will install your outdoor decorations and holiday lights, take them down and provide storage.
There are many benefits of having a professional Christmas light and Holiday decor company work on your installation.
Avoid spending time in the cold weather
Eliminate the physical risks of being on roofs & ladders
The flexibility of design each year
Spend more precious time with family and friends
All of our electric lights are LED, which can give you savings up to 80% on energy use. We also provide other year-round decor like outdoor planters and urns. Our lighting can be used at any time of the year.
Christmas is incomplete without the Holiday tree tradition. For Christmas, the concept of decorating the house with light displays is a perennial favorite. However, the most eye-catching ideas for outdoor Christmas decorations make extensive use of organic materials. When it comes to decorating for a holiday party, don't forget about the trees, bushes, and even ground cover. Well-maintained plants can provide a stunning view from the comfort of your own home. We make sure to incorporate natural elements into your entrance decor and landscaping accents, as well.
Christmas Lighting & Decor
One of the most distinctive features of our holiday decorations is the twinkling of the tree lights. For larger trees, wrapping branches and trunks and using canopy lighting yield the most stunning results. Lighting bushes is an inexpensive and effective way to add color to your display.
Are you in need of a holiday decorator with experience? That's why you should work with Garlatti Landscape Inc. A member of our design team will come to your place of business or residence to conduct an inspection. In order to create a warm and inviting atmosphere in your lobby or house, we'll work within your financial constraints. Aside from Christmas and holiday lighting, we also do this kind of work for a living. In order to fit the surroundings, we install festive lighting in both the outside and inside of each property. Whether it's for Christmas or another special occasion, we can help you make your house seem its best.
Artificial trees and live wreaths, garland, swags, and other tabletop decorations are all available at Garlatti Landscape Inc. Our ability to decorate is nearly limitless. When you can provide you a professional to give your home or business a fresh new look with no work, why bother attempting to get it "just right" yourself? Spend your busy holiday season with the holiday spirit with your loved ones and leave the worries of installation process to us.  To learn more about our Christmas décor services, get in touch with us immediately.