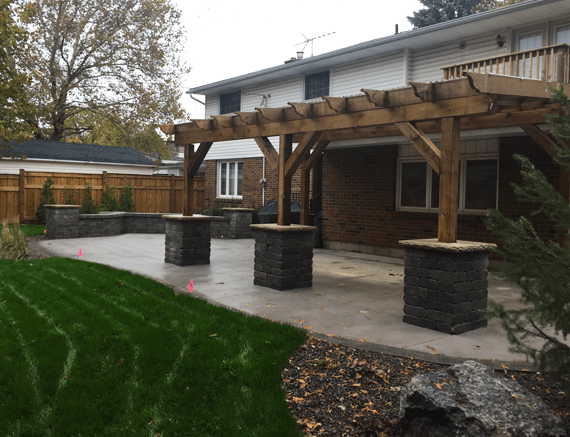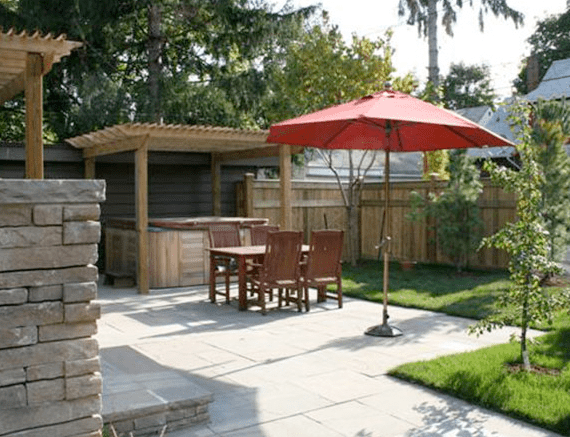 Landscape Construction in Windsor Ont.
With over 25 years of experience, Garlatti Landscaping has provided our discerning clients with the proper equipment and crew to provide a range of landscaping construction services. Our Designer, Construction Foreman, and job site crew work in a timely manner and are ready to tackle your project.
We are flexible, efficient, and work with our corporate clients. We blend your dreams and ideas with our artistic skills and creative skills to make our client property become your dream landscape. Use our designer or bring in your own drawings. The initial consultation is at no charge.
Our professional landscape construction team have vast experience in construction project management with complete construction knowledge. We provide a detailed brief on construction cost before starting the project so that the customer has an exact idea of what he'll be paying and what he'll be getting. Unlike other companies, we don't have any hidden charges. Our Customer service supersedes customer expectations. Garlati landscape is the best choice for landscaping services including landscape design services.
Our industry requires skill and experts for landscape construction and our entire team is fully capable to tackle all aspects of landscape construction for your home or business.
Landscape Installation for your home or business
Owning property is a joy. However, it also means paying attention to all sorts of little yet extremely important details. Each part of your property should be pleasing to the senses. This is particularly true when it comes to thinking about the exterior of your home or business. Landscaping construction projects play a crucial role in bringing the outdoors to life. Well-chosen details such as the use of flowers, shrubs, and other forms of hardscaping can make any property a welcoming and inviting place for guests and potential visitors.
If you are thinking about ways to increase the visual impact of your home and add more oomph, it's a good idea to have experts at your side. Our experienced team of skilled landscapers can do it all. Based in Windsor, Essex County, we're the trusted professionals you want for all your residential and commercial landscape installation needs. Contact us today and fulfill your landscaping dreams right now.
All parts of any landscaping construction & installation must be considered carefully and thoughtfully. A homeowner or business owner must have a vision that works for them in every way. This means coming up with an overall idea for the entire landscaping plan they have in mind. It also means thinking about what kind of details are going to work for all areas of their property. These details include the use of color, varied height, the type of plantings desired as well as how it is going to look from many different angles.
We can help with any aspect of any landscaping plan for your personal and professional landscape construction services. If you already have a property with some form of landscape in place, you probably have ideas about the kind of improvement to the property you want to make right now.
If you're just starting out, you might be wondering what to do with the land in front of your eyes. This is where our experts come in to help. We're there at every single stage of the landscape process with ideas that work. We offer help with an overall plan to bring out the best aspects of your property. We also know exactly how to bring in lots of marvelous subtle details that make any backyard space both lively and elegant.
Our firm offers many types of services that you can use.
This includes:
Custom and practical designs,
Beautiful Hardscaping,
Working Irrigation,
Plants,
Sod,
And retaining walls.
We'll help you decide on a custom plan for your property. This means your needs are front and center when it comes to planning out your front, back, and side yards. We offer plans for your landscape that are fitted fully with your exacting needs in mind at every turn.
Our unique designs go beyond the standard cookie-cutter approach and allow you to think out of the box. This means you have people on your side who can help with anything you might have in mind. We see your vision and we know how to translate that to a beautiful outdoor space.
Hardscaping and Retaining Walls
Hardscaping is a process that many people have heard about. This is the process of putting in items such as stones and concrete. A patio made of concrete, for example, is one of the aspects of the landscape construction process. At our company, we'll help you figure out what kind of hardscaping you want in place. We'll also help you figure out how to use these materials to create an overall plan for the entire yard.
We'll also put up retaining walls to help with the complete look of the property as a whole. That ensures you have a wall that will keep things in place. It also makes it easier for you to keep things in the yard well irrigated. Irrigation is the process of making sure everything is completely watered all year long. Proper irrigation keeps all of your plants and the underlying sod in place no matter the weather outside.
Your Trusted Landscape Construction Team
Above all, when you work with us, you can count on us to be at your side as a valuable ally. We take the essential time for client interaction and client satisfaction. We know their property means a lot to them. Working with us means having someone on your side who can help with all of your plan for your cherished home or outdoor living space. We can bring your beautiful space to life and make it an entertaining space.