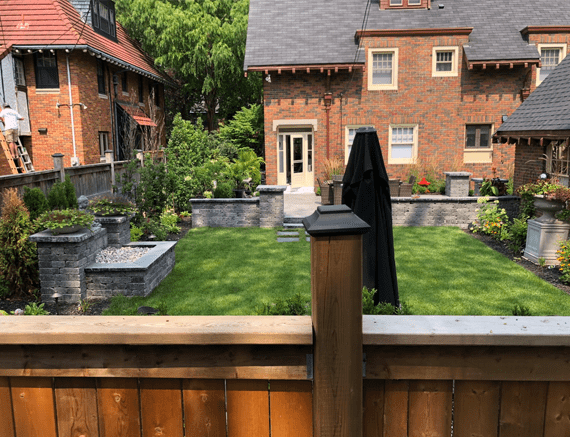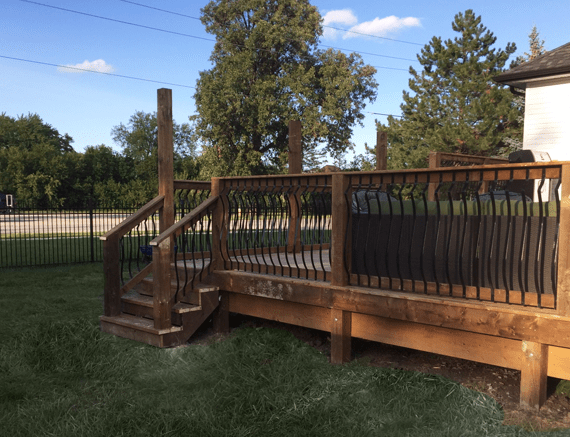 Windsor Deck and Fencing Contractor
Looking for a deck builder or fence installation services? Maybe you are in need of a new deck or fence that is beautiful, functional, and made just for you?
Garlatti Landscape has experience building many types of custom decks & fences. Using cedar, pressure-treated, and composite deck materials we can build composite, cedar, and pressure-treated decks that add to the function and beauty of your yard. Want your deck to outlast you? Ask us about a Concrete Deck. We are Windsor's only concrete deck builder!
Our fence building experience includes materials such as wood, iron, & vinyl fences. During consultations, we will discuss the location of your fence or how you will use your creative deck to determine the best design and construction method.
From Simple 4X4 fences, complex 6×6 fences, vinyl fences, pool fences, wood, iron, or other material Garlatti Landscape Ltd in Windsor can build your fence. We provide a range of custom-designed fences or standard fence building solutions, that will fit in your outdoor surroundings. We build our custom fences to last, the posts are set beneath the frost line and with plenty of concrete. Pick from our Pressure Treated wood, composite or Cedar materials.
Along with creative deck designs and fences Garlatti Landscape can build Pergolas and Gazebos. These are a great way to provide shade over your deck but can also be installed over, hot tubs, & concrete or free-standing over a patio. We sell and install vinyl pergola and gazebo kits.
Decks, fences, and other outdoor furniture items of superior quality enhance the appearance and curb appeal of your home. Many homeowners prefer to use wooden fixtures in their landscaping design in order to improve the overall appearance. They frequently have a reason for dividing the property. Well-built fences make excellent neighbors and may be essential if you have a pool in your backyard.
Each of these alternatives If designed appropriately and maintained properly will add value to your home. A dream deck can be the ideal outdoor living place. It's a place where family members and friends may unwind within the confines of your house and outside the inner walls.
Of course, these are just a few of the numerous advantages of incorporating one or more of these features into your landscape. We'll meet with you to discuss your ideas and the ways in which they will benefit you.
Deck Design & Fencing Installation
We provide skilled fencing installation services for residential and commercial customers, including chain link and wood fencing. There are several design options available, and we can even create unique double or single-gated entries.
Each of our installations reflects our knowledge, quality, and talent. Along with our high-quality workmanship, we also remove fences.
Wood fencing lends a natural, organic appearance to properties. Due to the fact that it is constructed entirely of natural materials and wood, no two fences are identical. Each wood fence adds a unique flair to your backyard.
Additionally, it is the most suited fencing material since it is malleable in terms of shaping and building to fit, providing an infinite variety of options for privacy fences such as post caps, shaped tops, and the addition of decorative extensions such as lattice or ivy over the fence's edge.
If you want to unwind and take in the beauty of your garden from the safety of a professionally built deck, you should contact Garlatti Landscapes, Inc. Our years of experience and skill have established us as the go-to business for all of your quality Deck and Fence Installation needs.
The quality of our workmanship when it comes to constructing your substantial fence or top-quality custom deck is unrivaled. You can rest assured that the installation was completed with care and that premium materials were used that are designed to last year after year.
Deck Design & Installation
The reason for building the stunning deck is just as critical as selecting the appropriate materials. There are numerous options available for the design of the deck and the materials used in its construction. Our designers understand how to get the look you seek while remaining within your budget. If you're looking to establish a tranquil place or an outside grilling area, our custom-built decks are the answer.
There are a few advantages you have over your neighbors who do not have decks. Decks may increase the size of your home. If you're running out of space in your home to host guests, we can build you a deck.
Another reason to have Garlatti Landscape construct a deck for your house is for aesthetic reasons. We'll work with you to create the deck of your dreams. Your neighbors will be envious.
Decorate your home for the next major occasion to get the party started. Our designs are sophisticated and refined. We'd want to hear from you on your suggestions. Contact us immediately and we'll be glad to learn about your deck design vision.
Our Fence Installation Services can be used to create privacy and define transitional zones. Fencing is renowned for its superior craftsmanship and long-lasting durability. Our professional fencing installation and finishing specialists will ensure that your fence is protected from harm by applying a high-quality wood stain and sealer. We provide a variety of types and features to assist you in selecting the fence that is the greatest fit for your needs and your home!
Additionally, your fence will not be harmed. We exclusively utilize high-quality wood that will not crack or rip during a storm. Contact us today to begin discussing the design of your fence. We'll assist you in obtaining the fence you've been searching for.
If your pool is not fenced and is open, you should notify us immediately. Our fence professionals will install a fence around your pool to ensure that no one may access it without your consent. If you're a fan of your pool and want to protect yourself, install the fence today.
Contact Your Local Windsor Deck & Fence Contractors
We provide high-quality fencing solutions in a variety of materials, including glass, aluminum, and wood, as well as poolside fences. We offer decking options such as deck benches and floating deck steps to enhance your outdoor entertaining area. We'll construct something lasting out of the finest materials available and our greatest craftsmanship. We will work closely with you to ensure that we completely grasp your objectives.
So, if you are looking for the best deck building company, deck contractors, Custom high-quality fence repairs, or a new custom fence project, Garlatti Landscape Inc is the best option for you. Our professional deck-building teams are available for professional quality work in the Windsor and Essex County area.